Hand-rolled with metamorphic melted edges, each disc contains a minimum of 12-14 grams of Sterling Silver,
and is imprinted with a lyric fragment that is especially meaningful to me.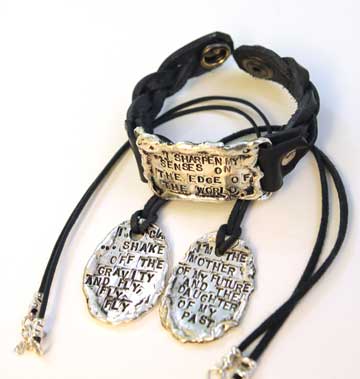 All of my lyrics have a special place in my heart, and hopefully you will be touched by the essence of my words and find a sentiment that connects with your own inner truth.
---
SPECIAL INTRODUCTORY PRICE! INCLUDES FREE SHIPPING & HANDLING TO ANYWHERE IN THE US!
$125 - STERLING SILVER OVAL PENDANT ON 18" LEATHER CORD. INCLUDES "LOBSTER" LOCK AND EXTENSION HOOP:

"Shake off the gravity and fly fly fly" (from Shake Off the Gravity)
CLICK HERE to listen!

Written as a tribute to the memory of my own beautiful mother whose smile is illuminating the heavens and whose vibrant, vivacious spirit constantly surrounds me, my song 'Shake Off the Gravity' is my gift to her and celebrates the love that survives and transcends...

---

"I'm the mother of my future and the daughter of my past" (from Under a Cloudless Sky)
CLICK HERE to listen!

Exiting a club in Brooklyn, having just seen Patti Smith in concert, inspired beyond words, I glance up at the sky. Full moon bright no stars not a cloud in sight. Everything seems so very clear and the first verse of this song just pops into my head. The rest of it shoots out as soon as I got home and grab my guitar. It's about inspiration and creativity and clarity and although it was one of the last tunes to be written for the record, it just had to be first…

$195 – STERLING SILVER RECTANGULAR PENDANT ON 7" BLACK LEATHER WRISTBAND:

"I sharpen my senses on the edge of the world" (from Under a Cloudless Sky)
CLICK HERE to listen!
---